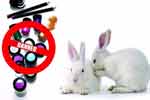 A much needed relief for animals in laboratories. Taking inspiration from the EU and considering the requests from animal welfare groups, the Indian government has banned the use of animals in tests for cosmetic products and ingredients.
May 23 brought a huge relief for animals in India and good news for animal's activists. Joining the likes of Australia, Brazil, European Union(EU) and New Zealand, India banned the use of cosmetic products and their ingredients on animals.


The ban was brought into immediate effect on the 23rd (Friday) through the gazette notification of the Drugs and Cosmetics Rules (Second Amendment) 2014. Animal welfare groups and several activists including some prominent names of Indian politics like Maneka Gandhi and the National Advisory Council chairperson Sonia Gandhi, had been seeking the ban for long. Several cosmetic brands and units in India were actively using animals for testing their products.

Following the recent ban on cosmetics tests on animals imposed by the EU, the Bureau of Indian Standards (BIS) Cosmetics Sectional Committee under the supervision of the Drugs Controller General of India decided to impose the ban in India. After the notification, any cosmetic company which carries out animal testing will face action as per provisions of the Drugs and Cosmetics Act and the Animal Cruelty Act. The accused company, worker or owner will be liable for punishment for a term which may extend from 3-10 years and/or a fine of Rs.500 to Rs.10,000.


During cosmetics tests on animals, chemicals, usually the harsher ones were dripped into animal's eyes, smeared onto animals' skin. It was also common to force chemicals down an animal's throat during these tests. The ban has been welcomed by all and is believed to set yet another example for the rest of the world to be nicer to animals. The ban also makes it mandatory to use only modern non-animals tests and to seek the approval from India's regulator Central Drug Standards Control Organisation even for non-animal tests. The ban is indeed a promising move for better life of animals around us.
Read more Health News
Image Courtesy: www.deccanchronicle.com
Article Courtesy: The Hindu