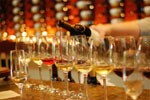 Researchers have found that hearing alcohol-related phrases can make one angry and aggressive.
A new research that was jointly done by researchers at California State University, The University of Kent and The University of Missouri has found that when people hear alcohol-related phrases, they can become angry and aggressive. The liquor types may include beer, whiskey or wine.
To do the study, the researchers exposed a certain number of students to alcohol primes such as the words, wine, beer and whiskey. There was another group of students that was exposed to non-alcohol primes such as milk, juice and water. This was done prior to being given feedback on an essay that they had written.
The participants showed that there was an increased aggressive retaliation when one was provoked by the feedback given to essay, but only when the provocation was not really interpreted as an insult. Kent's School of Psychology professor, Dr. Vasquez, said that a clear or unambiguous provocation produced a highly aggressive responses regardless of whether a particular person was primed with alcohol or not.


Vasquez said that alcohol was dangerous even in its audio form too. He noted that the results of the study provide a strong demonstration that exposing one to alcohol-related words alone can affect social behaviour in several ways that are consistent with the effects that alcohol consumption has.


The results of the study also examined the various parameters that exist within which alcohol priming can affect aggression. The effects of alcohol aggression happen especially when provocation is not obvious or clear-cut and therefore, they are more open for interpretation.


Article source: Delhidailynews
Image source: Getty
Read more Health News.