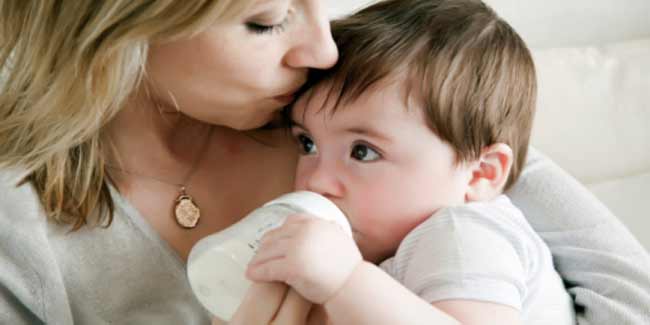 Use this age by age guide to feeding your baby to find out what and how much to feed your child in the first year. It will help in making suitable food choices for your baby.
Your baby needs healthy foods to grow and to develop properly. How they eat now will help to build their foundation for healthy eating habits for the rest of their life. Our age by age guide to feeding your baby provides information on feeding healthy full-term infants all the way till they turn twelve months old.

Healthy eating is critical to good health and children who eat healthy are less likely to become overweight and develop diseases when they grow up. If you are a new mom, you probably have many questions about feeding your baby. Refer to the following feeding chart to find answers to some of the questions you might have.
Age by Age Feeding Guide: Birth to 4 Months
From the time your baby is born, you must feed it breast milk only. In case the baby tries to avoid it or you have a medical condition that requires you to avoid breastfeeding, you could opt for formula milk. But, nothing except these two options should make their way to your baby's stomach.




During the first four months of life, your baby's body is looking out to find nourishment. Solid foods must not be fed to the baby because its digestive tract is still developing.
Age by Age Feeding Guide: 4 to 6 Months
By the time your baby turns four months, it probably can hold the head up, sit well in high chair, make chewing motions and show significant weight gain, which will be double of the birth weight. All these things indicate that your baby is ready to eat some solid foods now.

According to the recommended age by age guide to feeding your baby, you can now introduce some pureed foods like sweet potatoes, squash, apples, bananas, peaches, or pears to your baby's diet. You can also give semi-liquid iron-fortified cereal. You must, however, also try and breastfeed your baby alongside; preferably have more of breastfeeding than introducing solid foods.

You can begin giving your baby 1 teaspoonful of pureed food or cereal per day. You can gradually increase the frequency to 1 tablespoonful twice a day. If your baby doesn't eat what you're offering the first time, try to offer the same again in a few days.


Age by Age Feeding Guide: 6 to 8 Months
Now is the time when you can start giving your baby pureed or strained fruit, vegetables, legumes, meat and tofu along with breastmilk. The feeding chart for babies suggests that you can feed your baby small amounts of unsweetened yogurt. But, you shouldn't give it cow's milk until age 1.

You could give your baby 1 teaspoonful of fruit and vegetables and gradually increase the amount to ¼ to ½ cup in 2 or 3 feedings a day. You can give 3 to 9 tablespoonfuls of cereals in 2 or 3 feedings. Make sure you introduce new foods one at a time with at least three days in between to make sure your baby's not allergic.
Age by Age Feeding Guide: 8 to 10 months
By this time, your baby can move jaws in a chewing motion so, try introducing small amounts of soft pasteurised cheese and cottage cheese along with mashed fruits, vegetables and breast or formula milk.

Certain other foods can also be introduced to your baby's diet. These include finger foods (small pieces of ripe banana; scrambled eggs; well-cooked and cut up yellow squash, peas, and potatoes; well-cooked spiral pasta; teething crackers; low-sugar O-shaped cereal; lightly toasted bagels, cut up).




The baby can now also digest small amounts of protein (eggs; pureed meats, poultry, and boneless fish; tofu; well-cooked and mashed beans with soft skins like lentils, split peas, pintos, black beans).

Give your child 1/4 to 1/3 cupfuls of dairy (or 1/2 oz. cheese), 1/4 to 1/2 cupfuls of iron-fortified cereal, 1/4 to 1/2 cupfuls of fruit, 1/4 to 1/2 cupfuls of vegetables, and 1/8 to 1/4 cupfuls of protein foods.
Age by Age Feeding Guide: 10 to 12 Months
Your baby now has more teeth and can, therefore, swallow food more easily, and hey, your baby must also be is trying to use the spoon. So, give soft pasteurized cheese, yogurt, cottage cheese (but no cows' milk until age 1), fruit cut into cubes or strips or mashed, bite-size, soft-cooked vegetables, combo foods (macaroni and cheese, casseroles), protein, finger foods and Iron-fortified cereals (barley, wheat, oats, mixed cereals).

The age by age guide to feeding your baby recommends that the amount of this food to be- 1/3 cupfuls of dairy (or 1/2 oz. cheese), 1/4 to 1/2 cupfuls of iron-fortified cereal, 1/4 to 1/2 cupfuls of fruit, 1/4 to 1/2 cupfuls of vegetables, 1/8 to 1/4 cupfuls of combo foods, and 1/8 to 1/4 cupfuls of protein foods.

Remember, as your baby is growing and starting to explore more food options, don't be overwhelmed and stuff it with too much or too many kinds of foods. Go slow, introduce one new food at a time, and see if your baby likes it. If not, don't force; instead, re –introduce it after sometime. Your goal is to keep your baby healthy.

Image Courtesy: Getty

Read more articles on Parenting Tips.
Disclaimer
All possible measures have been taken to ensure accuracy, reliability, timeliness and authenticity of the information; however Onlymyhealth.com does not take any liability for the same. Using any information provided by the website is solely at the viewers' discretion. In case of any medical exigencies/ persistent health issues, we advise you to seek a qualified medical practitioner before putting to use any advice/tips given by our team or any third party in form of answers/comments on the above mentioned website.