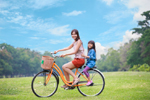 The more active a mother is, the more physically active her child will be, suggests a UK study of 500 mums and four-year-olds.
A UK study which observed 500 mothers and their four-year-olds, has suggested that the more active a mother is, the more physically active her child will be.


The study concluded that parents have an important role to play in developing healthy exercise habits in their children.

As part of the study, 554 four-year-olds and their mothers from Southampton wore a lightweight combined heart-rate monitor and accelerometer on their chests, for up to seven days.

Kathryn Hesketh, now a research associate at the Institute of Child Health at University College London, co-led the study and said the data from mothers and children showed a direct, positive association between physical activity in children and their mothers.

"The more activity a mother did, the more active her child. Although it is not possible to tell from this study whether active children were making their mothers run around after them, it is likely that activity in one of the pair influences activity in the other."

The study recognised that once women become mothers their activity levels fell and often failed to return to previous levels. This lack of activity could then influence their young children, it said.

Miss Hesketh said: "There are many competing priorities for new parents and making time to be active may not always be top of the list. However, small increases in maternal activity levels may lead to benefits for mothers and children."

The study, published in Paediatrics, said policies to improve children's health should be aimed at mothers.

Source: BBC

Image courtesy: Getty Images
Read more Health News.