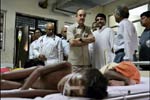 29 children were reported dead after they had contracted an encephalitis-like disease in the Muzzaffarpur district of Bihar.
A mystery disease that is as close in resemblance to encephalitis has cost the lives of 29 children in the last one week in Muzaffarpur district of north Bihar. The region is a long time epicentre for the disease. It has been noted that encepphalitis affects children in the region every year during the months of May and June.
At least four children were reported dead at the Sri Krishna Medical College and Hospital on Friday. The civil surgeon of Muzaffarpur, Gyan Bhushan, confirmed the deaths of 19 children and attributed it to the Acute Encephalitis Syndrome-like medical condition since its outbreak this year.
He said, "A total of 84 cases have been reported so far this year. Out of these, 19 children have succumbed to this deadly disease". He added that the goverment as well as private hospitals have been alerted about the same. Bhushan said that the doctors who are serving at the hospitals have been asked to stick to the line of treatment that had been fixed by the experts when the same disease had broken out in the area the previous year.
After confirming the deaths, the superintendent of SKMCH, Dr G Thakur, said that 7 new patients had been admitted to the hospital in the previous day. At least another 7 had arrived at a private facility. "Altogether 26 children were undergoing treatment at the intensive child care unit. Three out of four died late on Friday, while one child succumbed to the disease late Saturday afternoon," he said.
To take stock of the situation, a two-member state government team reached the spot on Friday.
An official said, "No effective measure has been taken so far to cope with the disease even though it has claimed more than 3,000 lives since 1995, when the first such death was reported".
Article source: Hindustan Times
Image source:
Read more Health News.