Milind Soman recently covered 1500 km of Greenathon from Delhi to Mumbai and turned into an inspiration for so many people. However, Milind Soman, who now referred as "The Irnonman" after winning the Ironman title at a triathlon held in Zurich, started with a 21 km half marathon and when he started this half marathon, first 2km proved to be an uphill battle, he had to build his stamina little by little but Milind did finish that marathon. After that, he tried full marathons and ultra marathons. As this actor is turning 51 today, have a look at his fitness mantra.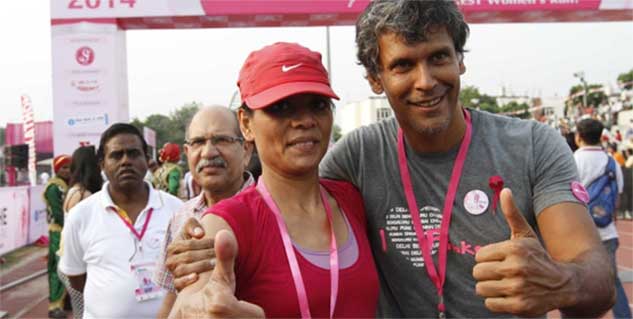 Running is the best cardio vascular exercise of all time; it does not require many efforts, just some good shoes and a drive to run. Yes, although running is easy yet people do not run because of lethargy. Motivation is one of the primary keys to run. Even if you run a little, your body will benefit from it. But most people overlook the importance of stretching before running and some don't even know that they should actually warm up their muscles before running by stretching.

Stretching is important, it helps in preventing any sort of muscle injury or ache and even helps you to run more efficiently. Whether it is just a 4 to 5 minutes of normal jog or a half marathon, stretching not only warms your muscles but also loosen up joints allowing to run effortlessly. You just need 30 seconds of each stretching exercise and you can just start with your run.
Stretches you can do before running
Marchers for your hamstrings
Stand straight with feet spread hip-width apart and feet should face forward. Lift your left leg, keep it straight and touch your toes with your right hand, after touching, place your left feet back to ground and then lift your right leg and touch its toes with left hand and now again switch. Do this for 30 seconds and it will work on your back, butt and hamstring.
Jumping jacks for your legs
We all know what jumping jacks are. Stand straight and place your feet together. Spread your arms apart. Now, jump and touch your palms together overhead spread your legs apart while hopping. Repeat for next 30 thirty seconds and you will feel it in your legs and shoulders.
Heel taps for your lower backs
Stand straight and spread your legs hip-width apart. Now, now bring the right heel and touch it with your left hand and now switch and left your bring your left heel and touch it with your right hand. Repeat for 30 to 40 seconds and it will work on your lower back.
Stretches you can do after running
Hamstring stretch for your hips
Spread your legs wide apart, now extend your arms straight out in front. Now, bend your knees to take sitting position with a low squat while stretching your arms forward while you will have to keep your spine straight. It will have an effect on your butt and thighs.

All of the above mentioned stretches for runners are specially designed to benefit different parts of runners, these are amongst the essential stretches for runners. These pre run and post run stretches can loosen up your joints and stretch your muscles.
Image Source: Getty
Read more articles in Exercise and fitness.
For more such stories, Download Onlymyhealth App.