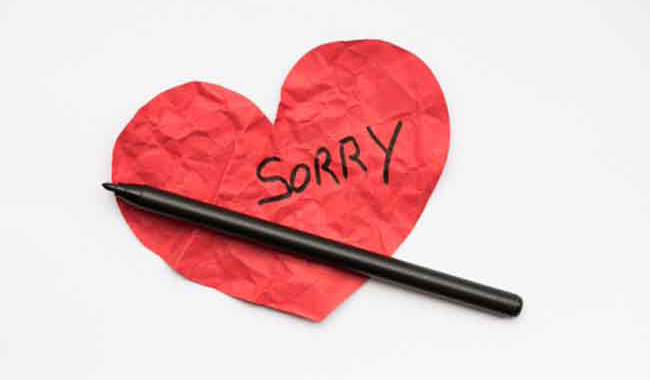 It's never easy to say that you are sorry, though it's even more difficult to let others understand how sorry you are. Offering a sincere apology that does work is way better than a casual apology that may get rejected easily.
No one is perfect; we all make mistakes. While there is no way to undo what's been done, there is one way to minimize the damage or even get things back to normal. An apology can work wonders for you when everything else seems useless. It's worth the effort to apologise, but it's even more meaningful to offer sincere apology rather than making casual efforts. Before you apologise, you must know how to make a sincere apology.




Casually apologising may work with people who understand you and are intimate. If you are formally apologising to someone, there is a possibility that the he/she would try to look out for the emotion that is attached to the apology. An apology that sounds more casual and less emotional will not do any good even if you are really sorry deep inside.

As much as it's important to apologise, it's also very important to do so in a way that the person feels what you mean and accepts your sincere apology. There are many ways your chance to apologise can be ruined, however, there are a few other ways in which you can do it right. So, as soon as you decide to apologise to someone, try to figure out the way to do it correctly.
How to Apologise Sincerely
There are four great ways to make your apology sound sincere and be very effective. Although, you may not find all of these steps necessary, one without the other may lose the effectiveness and eventually your apology may sound deprived of emotions.
Take Responsibility
The most important thing to do while apologising is to take responsibility of your actions. People will never forgive you unless you own up to your own mistakes. Make sure your apology begins with you taking the responsibility of your mistakes. Instead of just saying sorry, mention that you went wrong and how.
Acknowledge the Repercussions
No one apologises unless they see some severe repercussions in front of them. Instead of just offering a casual apology, let the person know you are sorry and you can see the repercussions. If you blew off someone's work, let them know you are sorry for they would now have to face the repercussions such as a delay in the project sybmission. It will let them know that you aren't selfish and are worried about the damage that your mistake has caused.
Correct Yourself
It is always better to apologise, however, it's even better to fix the mistake before apologizing. Assure the person that you are determined to change and that you will never make such mistakes again. Make the person know and feel that you are as concerned about the damage control as they are.
Say Less
The best way to make every word from your apology count is to say lesser words and then simply keep mum. You can even walk away and wait for the person to respond to your apology. Continuing to talk will only water down the emotions and make your apology look way too casual.
Image source: Getty