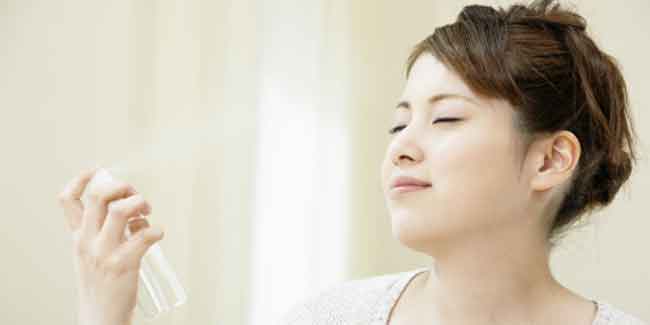 Looking fresh all the time could be a task during summers. Your face needs hydration to fight the heat. Here is how you can do it.
Looking fresh and ravishing could be a tougher task during summers, especially if you are exceptionally active. So to combat the harsh heart, you must have your hydrating mist in your bag all the time. Use of mist can re-hydrate your face, freshen up your makeup and hydrate your hair.

Here are some DIY face mists which are anti-ageing, acne fighting, refreshing and can make your skin glow instantly.
Items you Must Have
A glass spray bottle of 4-ounce
Distilled water
Organic rose water
Pure organic aloe vera
Organic green tea bags
1 fresh, organic cucumber
Lavender essential oil
Ylang ylang essential oil
Vitamin E oil
Organic witch hazel
Here is how you go about it
Hydrating Mist made of Cucumber-Aloe
Ingredients needed: 1 small cucumber, 1/3 cup of distilled water, 1 tablespoon aloe vera, 1 tablespoon witch hazel, 4-ounce glass spray bottle.

How to do it

Start with peeling and cutting your cucumber into dices or put it in a food processor. If you use a processor, make sure that you strain through a cheesecloth which will help you extract the cucumber essence and keep the mist light. Pout the spray in a bottle with water, aloe vera, witch hazel and shake it properly.
Anti-ageing Mist made of Rose Soothing
Ingredients needed: ½ cup of organic rose water, few drops of vitamin E oil, 3 drops of ylang ylang essential oil, 4-ounce glass spray bottle

How to do it

Mix water with vitamin E oil and ylang ylang oil in the glass bottle and you are ready to hit the outdoors.
Acne Fighting Mist made of Green Tea Tree
Ingredients needed: ½ cup of steeped and cooled green tea, 4 drops of tea tree essential oil and 4-ounce glass spray bottle.

How to do it

Put the green tea bag in a ½ cup of boiled water. Remove the bag after five minutes and let the tea cool down. Once it reaches a normal temperature, pour it in a bottle. Also put tea tree oil in the bottle and shake the mixture properly.
Image courtesy: Getty Images
Read more on Skin Care.